Hi everyone. This month is Library Lovers Month, so it was only fitting for me to do this post, this week, as the month comes to an end.
This week I decided to do about the different kinds of libraries there are, in and around the world. I not only love books, but I am also fascinated by architecture and in particular the architecture of these buildings. Every library is unique in its own special way. Some might say that they are "just libraries," but not to me they are so much more. They are the places of wonder and a place for you to escape too, it is where the magic happens and many journeys you will go on, but at the same time, it is also there to teach, learn and educate us, as well as stimulate our minds.
The Best Libraries in The World
Library of Birmingham, Birmingham, UK
Birmingham library opened its doors in 2013 and is said to be Britain's largest library, but is also the largest regional place of its kind in the whole of Europe, that as an amazing 10 floors. It as dazzling silver, gold, and glass exterior featuring interlocking metal rings that stand out from the crowd are enough to lure you in. This beautiful library was designed by Dutch architects Mecanoo, to pay tribute to the English city's Jewellery Quarter. It's modern and up to date library with its wealth of resources that is all in one place, houses both a kids' and adults library, music collection, a Shakespeare Memorial Room as well as a health facility topped off with its secret garden on the roof.
Tianjin Binhal Library, Tianjin, China
There is an incredibly good reason that this spherical library attracts so much attention, having up to 10,000 visitors a day, making it the city's biggest tourist attraction to date. On entering the Tianjin Binhai Library, you may first notice how exceptionally white everything is, it looks so clean, fresh, and mesmerising. This is a five-level library and has a total space of 33,700 square metres. Its characteristics include wall to ceiling bookshelves that go all around the room and incorporating the bookshelves into the steps that you use to walk up to the next level, there are enough shelves to hold its 1.2million books, and as a large luminous sphere in the centre that serves as an auditorium, holding a capacity of 110 people. It may look spectacular, but it is not completely all real as the library was fast-tracked, which meant access to the upper shelves was made impossible to get too: what you see way up there is perforated aluminium plates printed to look like books. Despite this, it is still very impressive. Besides using architectural firm MVRDV, you also had Tianjin Urban Planning and Design Institute (TUPDI) who had completed the library as part of a larger master plan, that provides a more cultural district for the city.
Chicago Public Library, Chinatown Branch, Illinois, USA
Chicago's Public Library opened in 2015 and is unlike any other library in the city. This library is 16,000 square feet, and two-stories high, with its feng shui, influenced interior décor, that as exceptionally striking views of the Chicago Skyline. This library includes Chinese language materials and a mural by CJ Hungerman which entitles the "Universal Transverse Immigration Proclamation," an ode to the neighbourhood's history and character. This is the second-largest public library in the mid-west. CPL also serves as a Cultural and Information Center for those who seek information about the Chinatown community and Chinese culture.
Toronto Public Library, Toronto, Canada
Toronto Public Library is a public reference library situated in Toronto, Ontario and was first established in 1909 by designer Raymond Moriyama Architects. It as a five-double-storey building and is the largest library in the area. The TPL went under a major revamp from 2009 to 2014, which saw the building expand to its present size, with a transparent glass cube that was built onto its structure, which now holds an expanded lobby, a shop, and a café. Several social spaces were built, including an event centre and a special collection rotunda. The TPL revamp was undertaken and led by Moriyama & Teshima Architects, the successor of the architectural firm to Raymond Moriyama Architects.
Bukit Panjang Public Library, Bukit Panjang, Singapore
Bukit Panjang is a public library that was officially opened on 4 April 1998. The library as doubled in size since it first opened. It went under a 10-month renovation starting on 4 September 2016, finishing 1 July 2017. It is the first public library to have two district wings that face each other on the 4th floor. The Adults and Teens zone is in the old library space, while the children's zone is in the space previously occupied by Daiso. The library was inspired by Bukit Panjang's transformation that now as a direct connection to the Downtown Line. Follow its colourful ribbons on the floor and explore the different sections it as to offer. There is something for everyone in this delightful library.
Geelong Library and Heritage Centre, Victoria, Australia
The Geelong Library and Heritage Centre is based in the heart of a flourishing cultural place. The Centre aka. The Dome is a much-loved part of the city's cultural and architectural landscape. The Geelong is a regional library, and is an archives and resource facility, that begun in 1858 and the Historical Records Centre was established in 1979 as a place to deposit a crucial number of historical records and archives. Inside you will find a welcoming of vibrant colours that is there to stimulate your brain and provide a very calm and relaxing atmosphere for you to study and learn. This is truly one not to be missed, as it will change the way you perceive libraries in the future. This library has so much to offer from:
6,000m² of space, including five public levels
Heritage Centre repository and reading room (Level 3)
Powerful, free Wi-Fi and high-speed Internet access
An entire floor dedicated to children and young people, with age-appropriate collections, digital technology, and activity spaces (Level 1)
Major event space with spectacular bay views (Level 5)
A diverse collection of print, multimedia, and heritage items, and so much more…
Brandenburg University of Technology Library, Cottbus, Germany
The Brandenburg Library was designed by Swiss architects Herzog & de Meuron who instantly achieved international stardom for its skin covered structure with myriad lettering in various alphabets and languages. which had taken three years to complete in November 2004, this structure stands tall at 32 meters high with reinforced concrete construction that was covered by a double-shell, glass façade embodied by its stylized graffiti. The ground plan of the building has an outer cover that resembles a cloverleaf. This amazing architectural external structure continues its uniqueness all the way to the interior, with its spiral staircase that extends from the first floor all the way up to the sixth floor, with a striking colour scheme in a multitude of colours (magenta, yellow, blue, red, and green) that covers its floors and walls. With exception to the management and business areas, there is also a room full of up-to-date technology, and a pool area, with a few separate areas.
Floor -1 and 2nd: Arts, Economics, Law
3rd Floor and 4th: Architecture, Civil Engineering, Technology
Ground 5th and 6th: Science, Environment, Information
The second level underground halls are closed to the public. The library has two basements used for the storage and repair of books.
Minna No Mori Gifu Media Cosmos Library, Gifu, Japan
Minna no Mori Gifu Media, Cosmos is a multipurpose centre in Gifu, Japan. On the ground floor, there are several public zones. The upper floor level consists of large, open reading spaces, that is surrounded by numerous curved globes that give the building its unmistakable character. These translucent polyester light shades have patterns that diffuse both daylight and the artificial light that shines within the inside of the lamps. Minna No Mori "a forest for everyone" in Japanese, consist of a library, art gallery, cultural hubs, and an architectural wonder to name but a few. This facility is in Gifu City that is situated in between the JR Gifu Station and Gifu Castle and structural design alone is worth a visit, which was designed by world-renowned architect Toyo Ito… It was chosen to illustrate the facility for the people of the community and the surrounding forests. Gifu Media has been designed in a more traditional Japanese style architecture and is divided into three subsections with each serving a more distinct purpose.
Dokk1 Public Library, Aarhus Denmark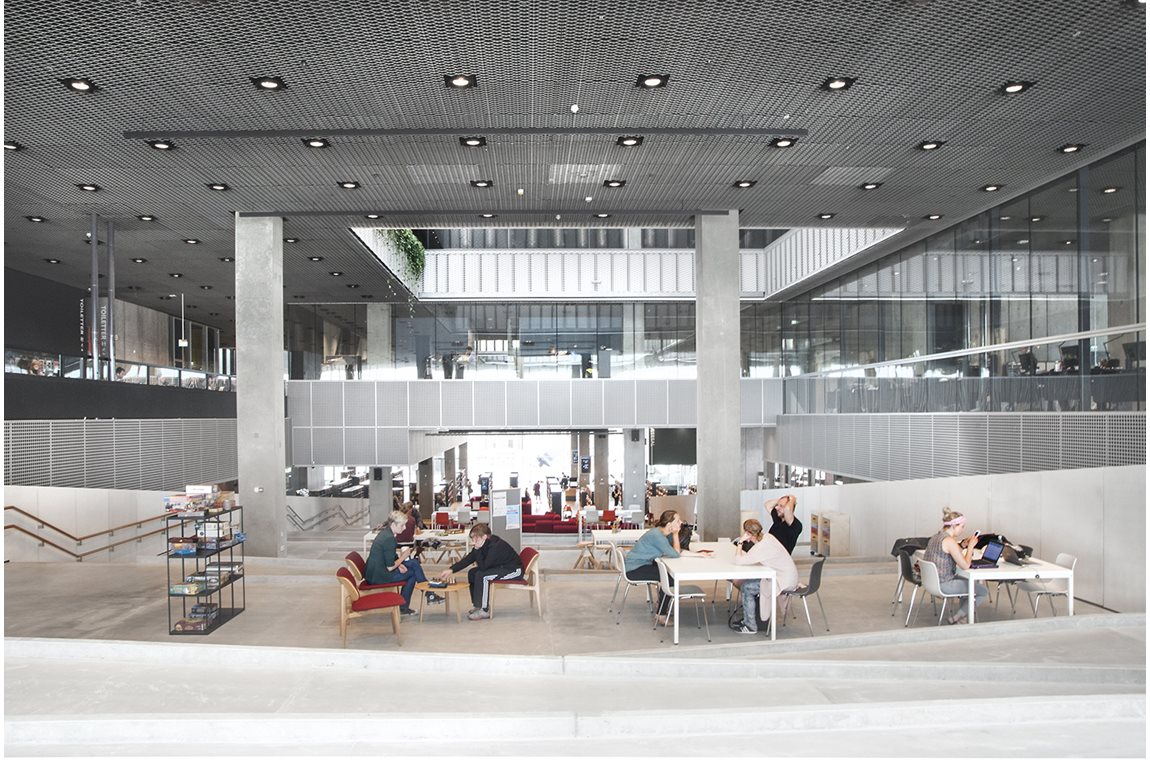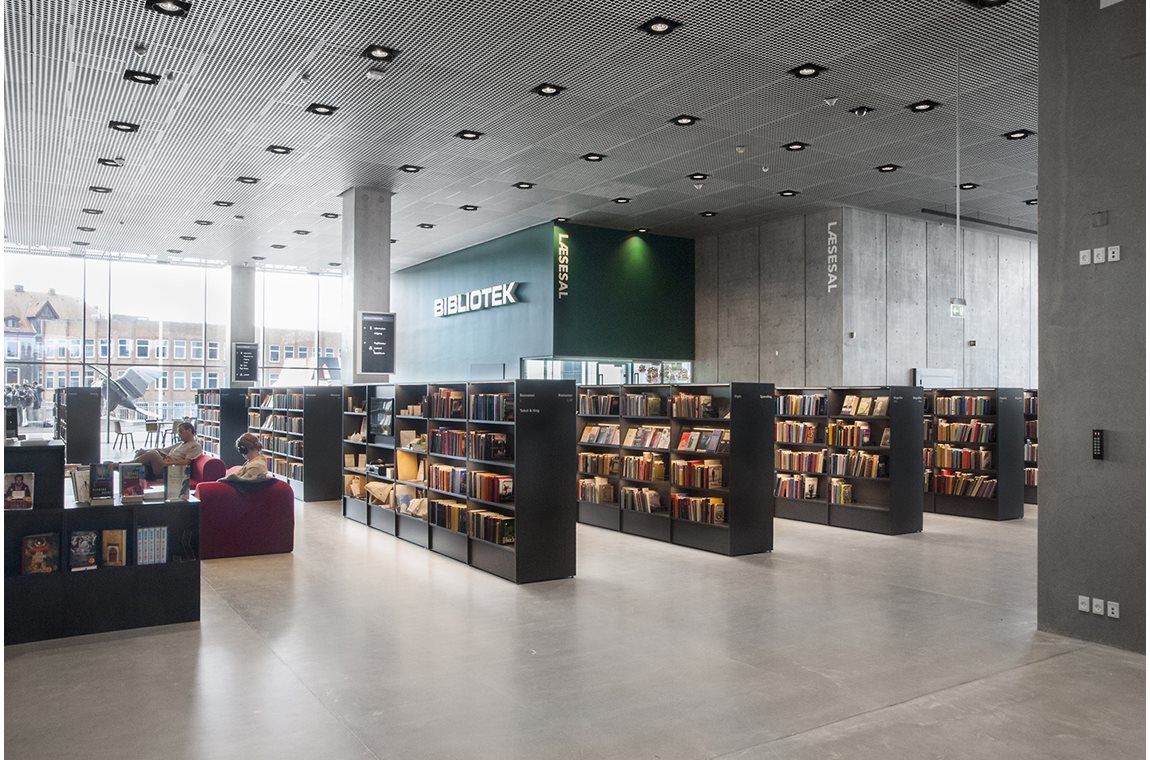 Dokk1 Public Library is a centre for those who have a thirst for knowledge and culture. This library is situated in the city centre by the waterfront. Dokk1 houses the Aarhus' main Library, the largest in the municipality, and it is the largest public library in Scandinavia. This magnificent library is split across two levels, containing a selection of departments, such as literary fiction, professional literature, various media outlets, exhibitions, a café, numerous lounges, as well as a section for children of different ages, events and lecture halls, small concerts, theatre, and film screenings, as well as underground parking, with enough spaces that covers 1000 vehicles. This structure also contains a rail system, with trains running through and under the building including a station, and still, there is so much to see in this wondrous of wonders, that just simply goes on and on.
Biblioteca Sandro Penna, Perugia, Italy
The Sandro Penna Municipal Library is in the city of Perugia. it opened its doors in 2004, the building was designed by architect Italo Rota and is in the shape of a disc which consists of pink glass that lets in natural light during the day and lights up the skies at night. Along with its location, shape, and function, it has become a nodal point in the San Sisto district, it is a visible and recognizable element, that means a lot to the people of the neighbourhood. The architectural structure of this library as open spaces, which lets in natural light throughout the rooms, with colourful furnishings to add to the overall effect. The second floor is carried out by a disc formed by a coloured structural glass coating that is mounted on curved metal frames…The light that flows through the glass filter gives you a more relaxing atmosphere and reaches all three levels through an empty space in the centre of the building. The library was originally named after Perugino poet Sandro Penna, some of his works have been printed on transparent panels covering the outer layers of the building. This has been listed as one of the world's most extravagant libraries and if you are a book lover this should be on your list of places to visit.
The Geisel Library San Diego USA
The Geisel Library is at the University of California and takes its name from the celebrated writer Theodor Seuss Geisel, you will all know him as children's author Dr Seuss, and his wife Audrey. The literary pair were honoured for bettering literacy. The eight-story building stands 110 feet tall. This structure was designed towards the end of the 1960s by American architect William Pereira. The building's distinctive architecture was described as occupying "a fascinating nexus between brutalism and futurism". The library went through a revamp in 1993 and was rededicated to the University Library Building and was renamed as The Geisel Library in 1995. The UC San Diego Library consists of Geisel Library and Biomedical Library Building.
Tama Art University Library, Tokyo
In 2007, the architecture world in Tokyo was aware of a new eye-catching addition, that was to be in the form of the library for Tama Art University, which would be designed by some local architects Toyo Ito and Associates. With its signature concrete and steel arches methodically positioned, which were there for good reason as it was providing the structure, not just with its striking appearance but was aimed to give you the impression and the sense that the floor was slanted, going all the way through the garden and into the building itself. You can browse its immense capacity of books or study beneath the arches, or why not enjoy listening to their music or even take in a movie in the "temporary theatre," or take shelter and read magazines while you are waiting for the bus to go home, this place is a treat and an absolute wonder.
Raza Library, Rampur, Uttar Pradesh, India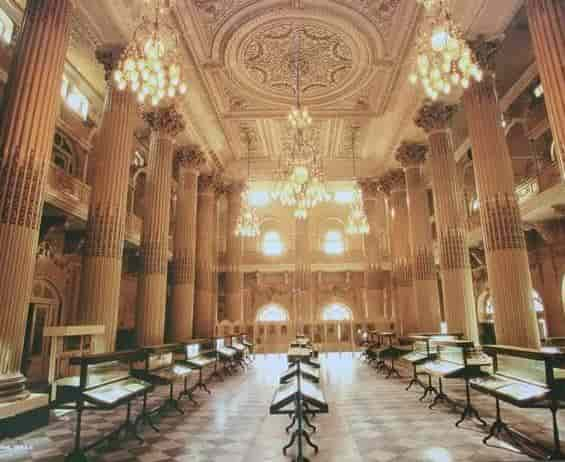 Raza Library was founded by Nawab Faizullah Khan, who was a ruler of the state of Rampur. What was once built as part of a palace in the late 18th century, was then converted into the Raza Library in 1904 by Nawab Hamid Ali Khan and has long been a national monument, a centre for the Islamic cultural heritage of knowledge, as well as a place to learn. This magnificent Indo-European architectural structure is home to a vast majority of Asian texts and objects, which now stores 17,000 rare and completely unique manuscripts in Arabic, Persian, Pashto, Sanskrit, Urdu, Hindi, and Turkish languages and over 200 handwritten letters. This library owns a good number of paintings and has a collection of around 60,000 printed books in various languages This is one of the oldest and most important libraries in South Asia
The Tianyi Pavilion Library, Ningbo, Zhejiang Province, China
Founded by Fan Qin in 1561. The Tianyi Pavillion is also known as Tianyi Chamber. This is the oldest private library in China and is a major attraction that Ningbo has to offer and it is among one of the oldest libraries in Asia. The Tianyi Pavillion holds the first collection, that was started by a retired imperial minister, and now includes over 300,000 volumes, 80,000 of which are rare ancient books that you cannot get anywhere else, which dates to the th century, and includes woodblock, handwritten copies of the Confucian classics, and rare local histories. Besides having these valuable collections, it is also known for its exceptionally unique architectural style and beautiful landscapes. Fan Qi's grandson later rebuilt the Pavillion and created an Eastern Garden for the library which is situated by a beautiful Yuehu Lake. This library offers a combination of art, history, social studies, and culture.
Thank you for taking the time to read my blog, I will see you all back here next week!