Hi everyone, today's post is about the many spectacular places you can go and visit around the world, as well as take some stunning photographs along the way, while having an adventure of a lifetime, and seeing some terrific sights. There are so many beautiful places around the world that is waiting to be discovered and for you to capture on camera, but you must remember to take your camera, so that you can capture every second of every moment of your time seeing these wonderful sights as you won't get that moment back again.
Photographers are lucky enough to travel all around the world, they have both the time and resources to travel to anyone of these places if not all. But even if you are not a frequent globe trotter and you want to discover some of the best places for you to go and visit, here is few to get you starter. Let your hair down and make new memories, with family, or friends.
If you got the chance to go anywhere in the world, where would you go?
Beautiful Places to Explore and Capture the Moment
Bora Bora (French Polynesia)
An aerial shot captures the breath-taking beauty of Bora Bora, making this a good place to not only take in the scenery but to also take some amazing photographs. It would be a shame not to add this island to a photographers dream places, with its striking rich sandy beaches and islands to discover. This beautiful place as more than 55 thousand visitors a year, that come to discover the wonders of the islands.
Bora Bora is in the French Polynesia, and is well-known for its volcanoes and turquoise lagoon, with its colourful coral reefs, and deep blue crystal waters, that is surrounded by islets, making this one the most photographed places in the world, both above and below the sea level. Why not try scuba diving and see the wonders of the ocean?
The Alps (Switzerland)
The Swiss Alps in Switzerland is a place of spectacular beauty, that encapsulates The Alps with its breath-taking scenery, it is just pure heaven capturing its very essence. Whether you decide to climb its 13,000 feet and walk across its peak or stop on the grassy hill a couple of miles away, you will still get a stunning mountain background, which will always give you one of the most iconic and worthwhile photographs.
Adventurers, artists, and photographers alike would especially love these views, but for different reasons, but they would all agree that it has the most breath-taking views around, which steals the show, whether it's covered in snow or not it is still mesmerises you. Photographers would prefer to shoot from the top of Breithorn mountain for the best views of the Swiss Alps.
New York City (USA)
New York City is called the city that never for an incredibly good reason, because it does just that, as it doesn't matter if it is morning, noon, or night, the city is always busy and full of life with the hustle and bustle that goes on, right into the early hours of the morning, along with the cities light which almost never goes out, it is such a stunning sight to see and creates a spectacular sight for the avid photographer who loves night-time photography.
New York City is such a beautiful place to visit, as there is so much to see and experience and photograph including its most famous landmarks the Empire State Building and the Statue of Liberty, If you position your camera right, you can take a shot of New York City skyscrapers that will give you a stunning shot of the city producing some of the most amazing photo shots with spectacular views across the city. This is a city of many wonders.
Machu Picchu (Peru)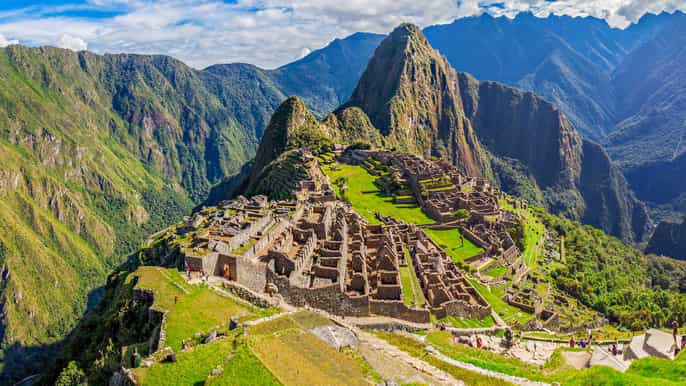 Machu Picchu looks stunningly beautiful in every way, there's no wonder it as 1.5 million visitors every year wanting to see its picturesque views. To photographers, it has all the elements of a good photograph, with its perfect views of the Andes along with the ancient Inca temples and ruins. For the best camera view would be an aerial shot as you get to see everything. Down at the foot of the Machu Picchu is the Aguas Calientes where you can also do some astrophotography and capture amazing shots of the Milky Way
This world-famous 15th-century landmark is situated nearly eight thousand feet above sea level, it is a great trip to go and visit when you are seeing the sights of Peru, you won't be disappointed.
The Pantheon (Rome)
Rome is a place full of culture and history, and it is always a good idea to immerse yourself in it, you will want to go take photos, too. The outdoor shot of the Pantheon in Rome, Italy is a spectacular sight to see, with its famous architecture, and photogenic buildings. This is one of the remarkable places that you could ever go too, especially those for those of you who are budding photographers. There are many famous architectures to choose from, so have fun visiting them and getting to know their history. I thought that I would do the Pantheon, which is situated in the Piazza della Rotonda which features an Obelisco del Pantheon or known as the Fontana del Pantheon (Fountain in Rome)
You can take photographs of the inside of this old Roman building, and capture the domed ceiling, which lets light come beaming through, and it beautifully lights up at night. There are many sights to visit, so plan your visit and see some amazing sights, and have a fabulous time doing it.
Avatar Hallelujah Mountain, (China)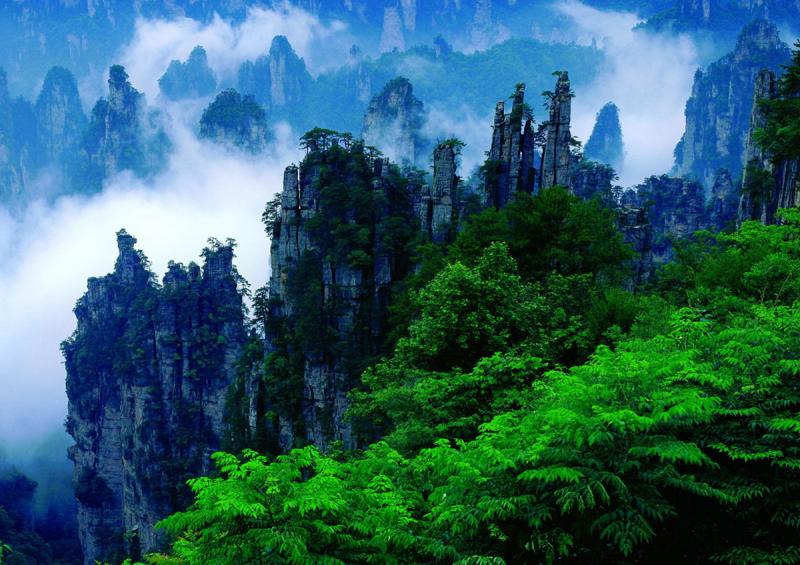 Avatar Hallelujah Mountain is a place of pure beauty, it is set in China a country with many of the world's most amazing locations, many of which are unknown to people outside of China. This place was the inspiration for the movie Avatar in the Zhangjiajie National Forest Park, which is one of the most beautiful places that China has to offer. I recommend taking your camera to take some spectacular photographs that will last a lifetime, and it has now become even easier than ever to take pictures with the Zhangjiajie Glass Bridge, which is the highest bridge to have a glass bottom. You can take a photograph looking down into the National Forest, but it is not for the faint hearted.
Faroe Islands
High up above the Faroe Island you can see for miles, it is a spectacular tourist destination, that's full of beautiful greenery that is preserved and unspoilt. This island is a place of many wonders, the views and scenery are spectacular that drive in the tourists, with having a record of just over 89,000 in one year to its average of just under 44,000.
This cluster of islands is between Iceland and Norway which is packed with unique and authentic adventures, which is all set under one place. This is one of the most beautiful places to be in world, with its mountains that set the scene, to the green hills, and beautiful crystal-clear blue lagoons, or take why not take in the picturesque scenery on one of their hikes, that strewn across the island are quaint little towns. It is one for the memory book.
Banff, (Canada)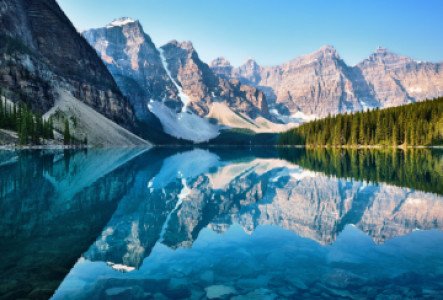 This beautiful picturesque Canadian beauty is home to Banff. It is a place for adventurous tourists and is a photographers dream picture with its amazing high peaks, where you can see for miles around. You can take a picture from about every angle, from the foot of the mountain to its highest peaks, you can take amazing camera shots, but don't forget to take in the views as well, they are just breath-taking, and you would hate to miss a single minute of it.
This place is a hidden gem, that has been hidden away from the rest of the world, but it certainly has earned its title of being one of the world's most beautiful and amazing places to visit. High up on the top pf the mountain, you can see the view of the glacial lake, called Lake Minnewanka and Bow River, they look spectacular especially in spring and summertime.
Thank you for taking the time to read my blog today. I will see you all next week.