Hi everyone, I hope you have all been enjoying this blast of heatwave we are currently experiencing. For me, I would prefer there to be a breeze to go with it.
On Sunday I went to visit my daughter, as it was her birthday on Tuesday this week, but this birthday is a little bit more extra special for her as it's her first one as a mum. Instead of just a day, she has what we call a birthday week, so enjoy the rest of your birthday week.
Today's post is about David Spade turning 57 today…
Who Is the Real David Spade?
David Spade is a writer, actor and stand-up comedian, who started to become well-known and famous throughout the 90's. It was whilst starring on the Saturday Night Live Show that got him the recognition that he needed and began his journey to success and stardom as well and becoming the person he is today. Spade started appearing in such films like Coneheads (1993), Tommy Boy (1995), Black Sheep (1996) and in an award-winning TV series Just Shoot Me (1997-2003).
The Early Years
Born David Wayne Spade on 22, July 1964 in Birmingham, Michigan US. His father Wayne M. Spade was a sales representative, and his mother Judith M. Spade worked as a magazine writer and editor, (she is known also by Judy Todd and Judith Meek). David has two older brothers Bryan a Film and Television Producer and Andrew a businessman and entrepreneur, who co-founded Kate Spade New York with his wife Kate Spade.
Education
David was only four when his family moved from Birmingham Michigan to Scottsdale in Arizona, where he attended Saguaro High School, before moving onto Scottsdale Community College, and then transferred to Arizona State University it is among the best University in the state, where he came away with a business degree in 1990.
Its Career Time!
Spade fought for the career he has today, he is not type to give up without a fight, and it is through his sheer determination and hard work that he got to have the career that he enjoys doing today, and it is still going strong, besides teaming up with Adam Sandler on quite a few movies, he does branch out and gets other roles to sink his teeth into like 8 Heads in a Duffel Bag (1997),
Home Life
David has never been married to anyone. But after having a brief affair with Jillian Grace, he became a father for the first and last time, to a daughter, they named Harper. He never had a great role model in the father department, but has been there for his daughter and spends as much time with her as possible, and in turn is a great father…
Facts:
David and his two older brothers often took to the Arizona desert as kids to catch rattlesnakes (with tennis rackets!) to keep as pets.
Growing up, David wasn't just a smart aleck, he was very smart in third grade, he got moved up to the fourth grade for some of his classes. He was a spelling bee champ, and read 47 books one year for a contest, and made it to the state chess finals, and was a member of Mensa.
David's single mom couldn't afford childcare, so she would sometimes drop her three sons off at one end of the desert, equipped with guns and bag lunches, for a day-long hike.
When David started out, his stand-up routine included props that he carried in his mother's blue suitcase.
David's father left his family when David was still was incredibly young. Years later, his stepfather, a war veteran, committed suicide.
Sister-in-law is handbag designer Kate Spade, who married his brother Andy, up to her passing in 2018.
Spade attended Saguaro High School and later Scottsdale Community College, before transferring to Arizona State University where he graduated with a business degree in 1986.
He was a member of the Sigma Alpha Epsilon fraternity.
Spade has starred in numerous films with fellow actor, SNL castmate and best friend Adam Sandler.
Spade's film career has been successful. He starred with fellow Saturday Night Live cast member and friend Chris Farley in two buddy comedy films, Tommy Boy, and Black Sheep. The two were planning a third film together when Farley died of a drug overdose in 1997 at the age of 33.
Spades best friends are Adam Sandler, Chris Rock and the late Chris Farley, they have known each other for years, since the days of Saturday Night Live, and from their they're friendship just grew.
Spade made his very first trip to Europe with his Grown Up (2010) co-stars Chris Rock, Adam Sandler, and Kevin James. They went to England, Ireland, and Germany to promote the film before its European opening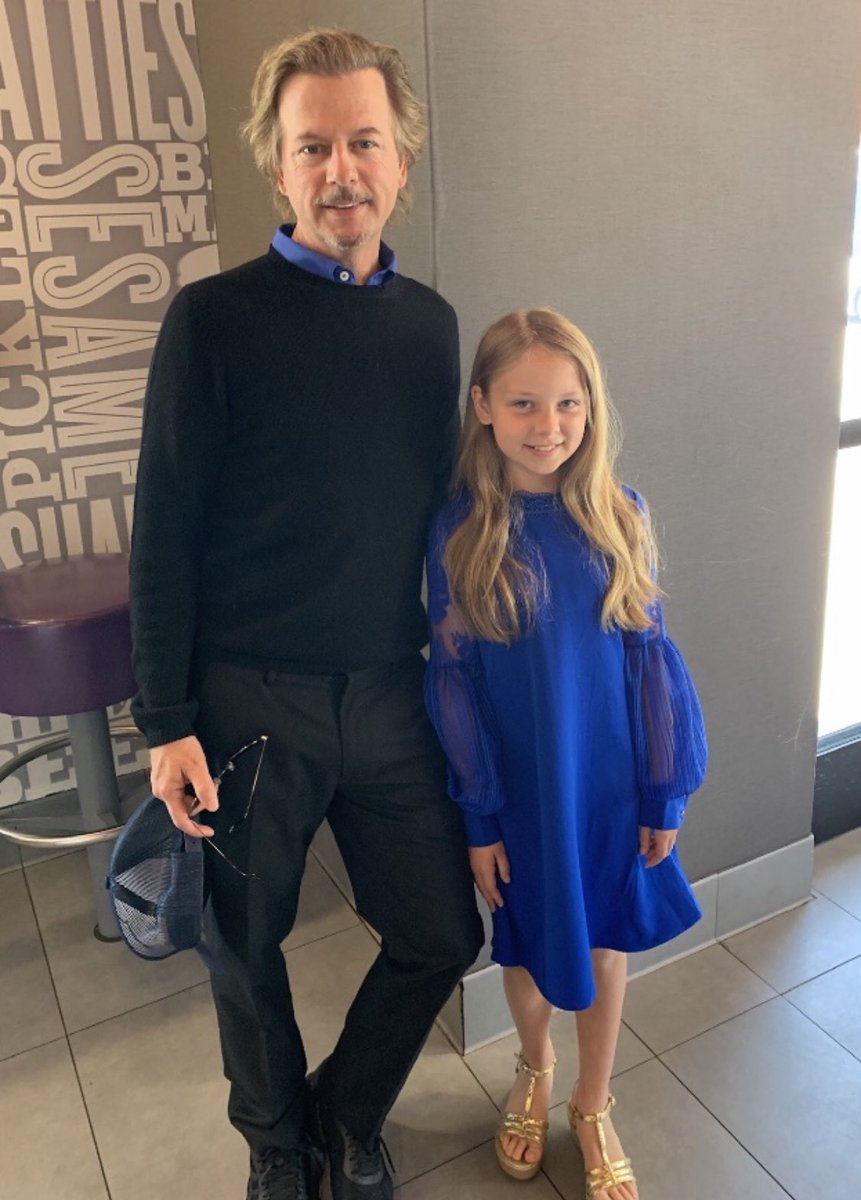 He and Playboy Playmate Jillian Grace have a daughter together. 12-year-old Harper, she is his only child. David and Jillian shares the responsibility of raising Harper, has they co-parent her, He is a hands-on dad, that loves nothing more than spending time with her. A total opposite to what his own father was like.
David was almost cast as Uncle Joey on Full House.
Spade's personal assistant, Skippy, attempted to murder him one night. Real name David Malloy had attacked him with a stun gun on November 29, 2000, and then was robbed.
Worked as a busboy, valet-parking attendant, and skateboard-shop employee.
Although he received several offers to star in his own TV shows, he turned them down and joined the ensemble cast of Steven Levitan's office sitcom Just Shoot Me! opposite Laura San Giacomo and George Segal, which ran for seven seasons from 1997 to 2003. He played a sarcastic receptionist, Dennis Finch.
Is extremely sensitive to sunlight.
Has German, English, Irish, Scots-Irish/Northern Irish, and Swiss-German ancestry.
David Spade, Adam Sandler, Chris Rock, Kevin James, and Rob Schneider starred in "grown-ups, together playing five best friends, the movie simply mirrors their real-life friendship off screen.
Has Two Tattoos Done by Two Time Oscar Winner and Friend Sean Penn One being a Tribute to his Late Co-Star and Best Friend Chris Farley, the other one is Calvin from Calvin and Hobbes.
Spade has been friends with Ellen DeGeneres since the 80's. They met when he was starting out on the comedy circuit, and she was well-known and successful by then. At their official meeting, when Ellen invited him to her home which he thought was a first date, but their mutual friend told him, that she was not his type, and have laughed about this over the years.
He could not handle the death of his good friend Chris Farley, so much so, that he couldn't attend his funeral and see him lying there in a wooden box. He couldn't handle it both emotionally, mentally, and physically.
Spade has appeared in around 40 movies with Adam Sandler.
He was catfished by a fake Victoria's Secret model on Twitter.
Spade shares his birthday with these fellow celebrities John Leguizamo, Alex Trebek, Willem Dafoe, Danny Glover and Selena Gomez.
His idol when he was young was James Garner. Spade used to watch him on The Rockford Files (1974), before co-starring with Garner on 8 Simple Rules… for Dating My Teenage Daughter (2002).
David spent his first $6,000 in cash from Police Academy 4 on a shoddy Honda Accord that was stolen an hour later. He later borrowed another 6k from Bobcat Goldthwait to buy another shoddy Honda Accord.
In December 2005, Spade donated $100,000 to the police department of Phoenix, which provided firearms for the officers. Spade also donated $200,000 for the Oklahoma tornado relief program on May 20, 2013, $100,000 toward the ALS ice bucket challenge in 2014, and $100,000 to the National Alliance on Mental Illness (NAMI) in June 2018 after the suicide of his sister-in-law Kate Spade, a fashion designer.
On September 5, 2003, Spade received a star on the Hollywood Walk of Fame.
Spade received an Emmy nomination and two Golden Glove nominations for his role as Dennis Finch on Just Shoot Me!
Thank you for taking the time to read my blog. Enjoy this beautiful weather we are having, but be extremely safe being out and about in it. See you all next week!