Hi everyone, hope you are all keeping safe and well. This week my mind was put at ease, as my mum finally had her first injection, and my aunt receives hers today, but like everyone else I would be glad to get my life back to some kind of normality.
Todays post is Will Eisner Week. A man that had an outstanding career with an unbelievable amount of talent.
To many creators, artists, and comic book readers, Will Eisner as for so long been considered the godfather of his art, and the great master of his time. There are some that would know him only by his namesake, or because of the Eisner Awards, or they usually think of The Spirit movie. You might wonder why he is held in such high regard and spoken with such finesse and respect.
Today you will get to look at several of Eisner's best work, giving you a sample of what he did over the course of his career which included several important graphic novels. He may of wrote spirit, but he as wrote numerous books, that include textbooks, where he uses his art as a teaching tool.
Without Will Eisner comic art, Marvel and DC would not be as successful as they are today, and becoming the most famous companies in history, with its huge fan base in comic books, which I am sincerely thankful for, as I am a huge Marvel and DC fan. However, for everyone that are huge fans of cartoonist, Will Eisner is someone on the top list of most famous comic artists of the decade, and will be forever remembered for just that.
Will Eisner week is a weeklong celebration of his achievements in the comic world.
Will Eisner's World of Art
Will Eisner's New York: Life In The Big City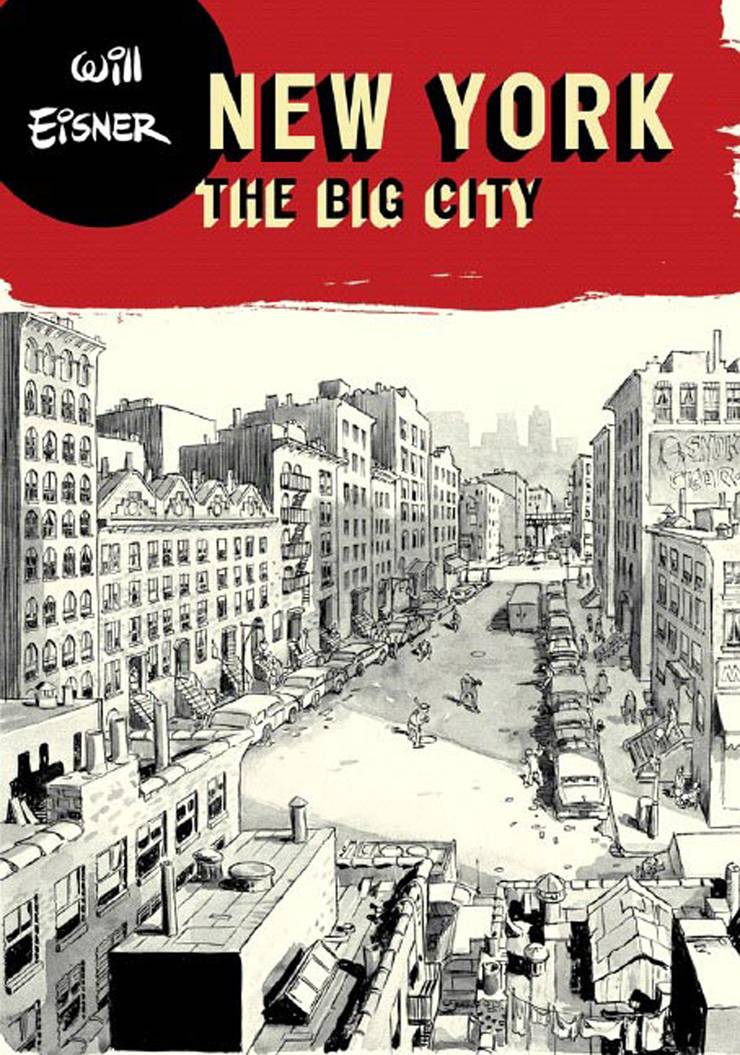 With an unparalleled eye for stories and expressive illustration, Will Eisner, the master and pioneer of American comics art, presents graphic fiction's greatest celebration of the Big Apple. No illustrator evoked the melancholy duskiness of New York City as expressively as Eisner, who knew the city from the bottom up. This new hardcover presents a quartet of graphic works (New York, The Building, City People Notebook, and Invisible People) and features what Neil Gaiman describes as "tales as brutal, as uncaring as the city itself." From ancient buildings "barnacled with laughter and stained with tears" to the subways, "humourless iron reptiles, clacking stupidly on a webbing of graceful steel rails," Will Eisner's New York includes cameo appearances by the author himself; several new illustrations sketched by Eisner, posthumously inked by Peter Poplaski; and three previously unpublished "out-takes"-a treasure for any Eisner fan, and sure to become a collectible. Introduction by Neil Gaiman.
Comics and Sequential Art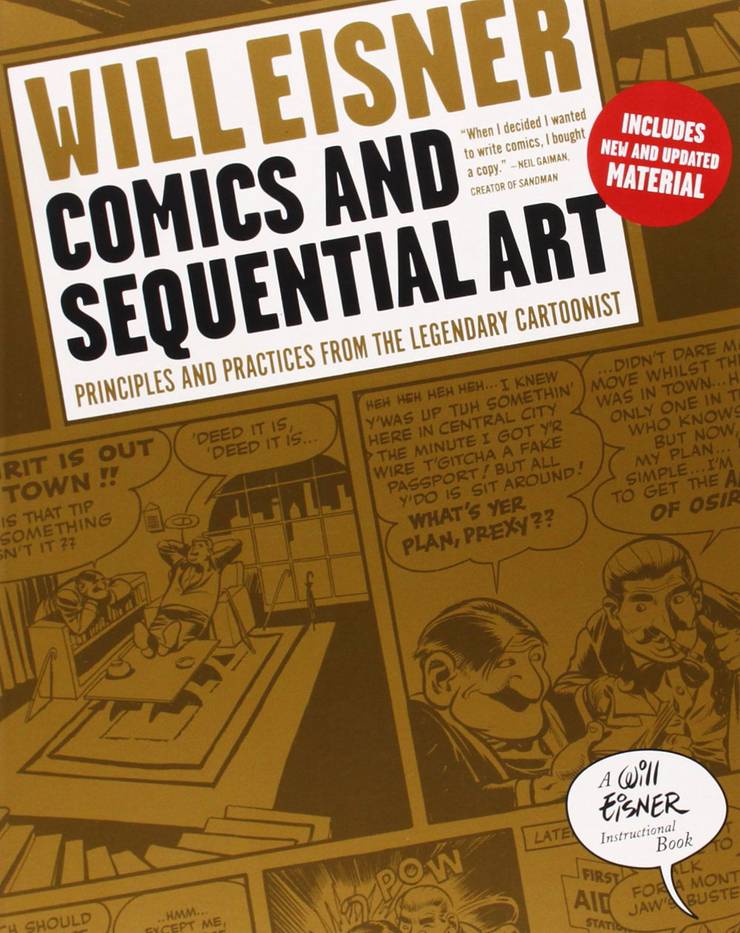 Will Eisner is one of the twentieth century's great American artists, a man who pioneered the field of comic arts. Here, in his classic Comics and Sequential Art, he refines the art of graphic storytelling into clear, concise principles that every cartoonist, comic artist, writer, and filmmaker needs to know. Adapted from Eisner's landmark course at New York's School of Visual Arts, Comics and Sequential Art is an essential text filled with invaluable theories and easy-to-use techniques. Eisner reveals here the fundamentals of graphic storytelling. He addresses dialogue, anatomy, framing, and many other important aspects of the art form. Fully updated and revised to reflect current practices and technology, including a section on digital media, this introduction to the art of comics is as valuable a guide as it was when first published.
The Best of The Spirit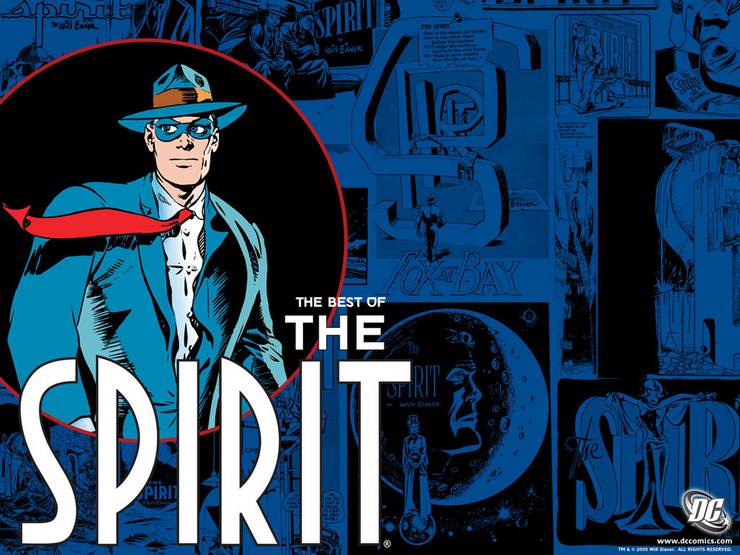 Written by Will Eisner Art and cover by Eisner DC Comics is proud to present its first-ever collection celebrating the greatest stories by comics mastermind Will Eisner starring one of the most indelible characters ever created: The Spirit! THE BEST OF THE SPIRIT reprints 22 Spirit sections from 1940-1950, featuring famous first appearances, classic confrontations, human interest tales, and all those magnificent splash pages! Eisner's blue-suit-clad, fedora-wearing crimefighter starred in hundreds of newspaper adventure stories that thrilled readers with Eisner's ground-breaking style. Eisner was a master of utilizing the comics format to its greatest strengths, and his Spirit stories are some of his finest examples! This volume also features an introduction by New York Times best-selling novelist Neil Gaiman (THE SANDMAN)
Expressive Anatomy for Comics and Narrative : Principles and Practices from the Legendary Cartoonist
Designed and outlined by Will Eisner before his death in 2005, this posthumous masterwork, the third and final book in the Will Eisner Instructional Series, finally reveals the secrets of Eisner's own techniques and theories of movement, body mechanics, facial expressions, and posture: the key components of graphic storytelling. From his earliest comics, including the celebrated Spirit, to his pioneering graphic novels, Eisner understood that the proper use of anatomy is crucial to effective storytelling. His control over the mechanical and intuitive skills necessary for its application set him apart among comics artists, and his principles of body grammar have proven invaluable to legions of students in overcoming what is perhaps the most challenging aspect of creating comics. Buttressed by dozens of illustrations, which display Eisner's mastery of expression, both subtle and overt, Expressive Anatomy for Comics and Narrative will benefit comics fans, students, and teachers and is destined to become the essential primer on the craft.
Hawks of the Seas
In 1936, a 20-year-old artist using the name Willis B. Rensie jump-started the comic-book medium. Writing and illustrating an action-packed weekly serial called Hawks of the Seas-a pirate adventure series set in the 18th-century Caribbean-the artist created one dynamic strip after another, honing his storytelling craft and shaping the comics medium with each one. That artist was none other than comics grand master Will Eisner From 1936 to 1938, Eisner's Hawks of the Seas weekly stories were translated into several different languages and distributed all over the world, and now they are collected here in this handsome hardcover edition. The stories themselves stand the test of time, as thrilling and exciting as they were almost 70 years ago. Featuring an introduction by comics veteran Al Williamson and a new foreword by Eisner himself.
Fagin The Jew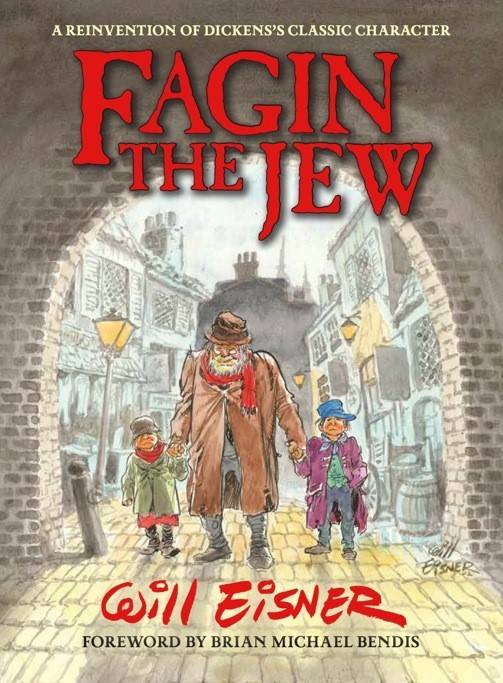 Comics luminary Will Eisner takes on literary giant Charles Dickens, in this fascinating retelling of the life of Oliver Twists' Fagin! Imagining Fagin's impoverished childhood in the slums of London and his initiation into the criminal underworld, Eisner's story counters the anti-Semitism of Victorian literature as his gorgeous brushwork creates an evocative portrait of the era.
Graphic Storytelling and Visual Narrative
"There isn't a comic artist alive who hasn't benefited from Will Eisner's masterful work and formidable wisdom." Scott McCloud, author of Understanding Comics

In Graphic Storytelling and Visual Narrative, Will Eisner—one of the most influential comic artists of the twentieth century—lays out the fundamentals of storytelling and their application in the comic book and graphic novel. In a work that will prove invaluable for comic artists and filmmakers, Eisner reveals how to construct a story and the basics of crafting a visual narrative. Filled with examples from Eisner's work as well as that of artists like Art Spiegelman and R. Crumb, this essential work covers everything from the fine points of graphic storytelling to the big picture of the medium, including how to:
Combine words and images into seamless storytelling.
Wield images like narrative tools.
Master different types of comic book stories.
Write and illustrate effective dialogue.
Develop ideas that can be turned into dynamic stories.
PS Magazine: The Best Of The Preventative Maintenance Monthly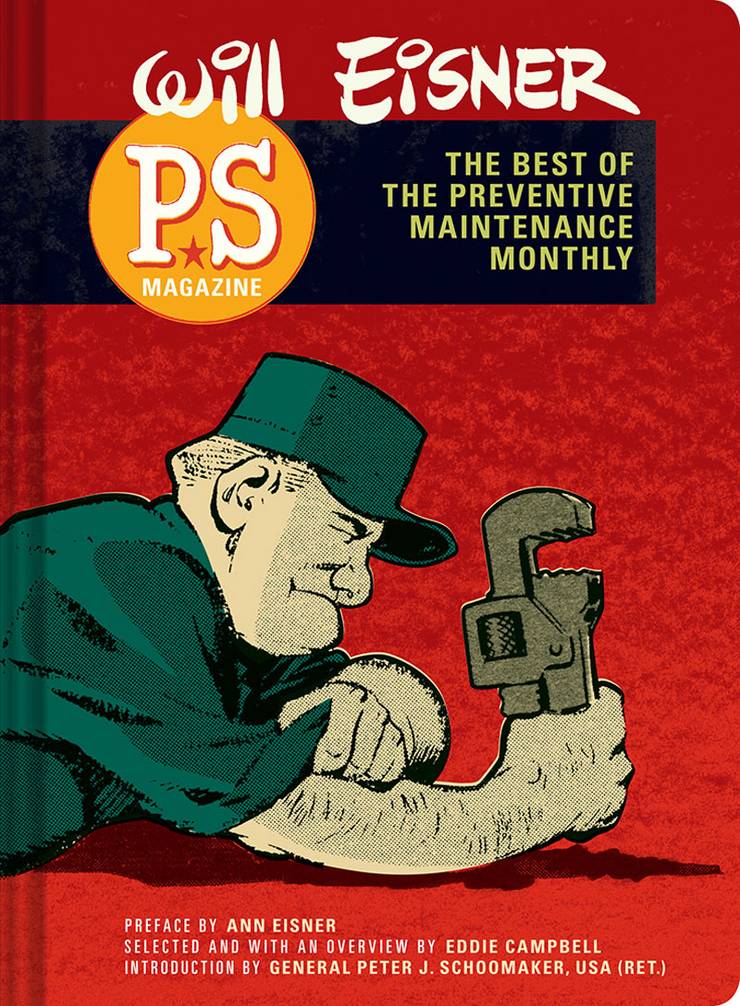 Will Eisner is best known for his influential comic book series The Spirit and his ground-breaking graphic novel A Contract with God – believed in the teaching power of comics, and from 1951 to 1971 he produced PS magazine for the U.S. Army. This Preventive Maintenance Monthly (called PS because it was a postscript to the standard technical manuals) was aimed at teaching American soldiers everything about weapons safety for vehicles, aircraft, firearms, and electronics. Eisner illustrated these vital lessons in drawings, pinups, step-by-step guides, and comic strips. This collection contains the best of Eisner's 227 issues of PS, reproduced in a portable digest format. This relatively unknown work by Eisner is finally explored – the missing link between his comic books and his later, more mature graphic novel style.
Will Eisner Art Work
Quotes
"Before World War II, I was living a very cloistered existence, as most cartoonists do. The work I was pouring out did not come from any real, personal life experience; this was all the residue of the accumulation of Rafael Sabatini, O. Henry, all the short-story writers that I'd been reading." Will Eisner
"As for me, I am in pursuit of excellence. I have no time to get old." Will Eisner
"I want to point out to adults that there is a world of good material available to you now in comic form – in this medium – and learn to give it your support because the more you support it, the better the material will be as it comes out." Will Eisner
"Thus, sped by currents of curiosity afloat the swift river of rumour do secrets sail to strange ports." Will Eisner
"A key to my thinking has always been the almost fanatical belief that what I was engaged in was a literary art form. That belief was compounded out of ego and necessity, I guess, a combination of the two." Will Eisner
"I write about what I know and what I have experienced. This keeps me an "honest" writer." Will Eisner
"Humour has historically been tied to the mores of the day. The Yellow Kid was predicated on what people thought was funny about the immigrant Irish. When you're different in a society, you're funny." Will Eisner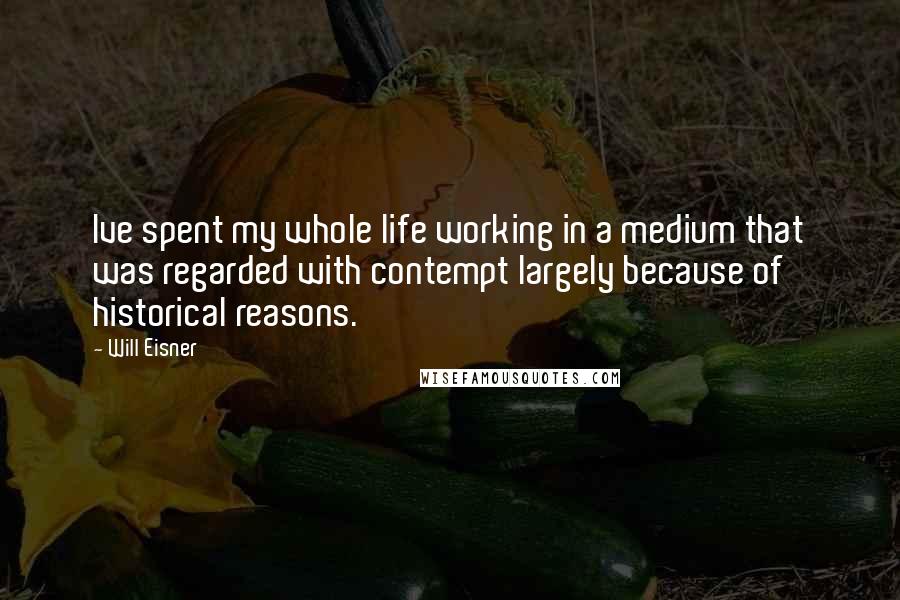 "I've spent my whole life working in a medium that was regarded with contempt largely because of historical reasons." Will Eisner
"Comics deal with two fundamental communicating devices: words and images. Admittedly this is an arbitrary separation. But, since in the modern world of communication they are treated as independent disciplines, it seems valid. Actually, they are derivatives of a single origin and in the skilful employment of words and images lies the expressive potential of the medium." Will Eisner
"We have this history of impossible solutions to insoluble problems." Will Eisner
"The comic strip is no longer the comic strip, but in reality an illustrated novel. It is new and raw in form just now, but material for limitless intelligent development. And eventually and inevitably it will a legitimate medium for the best writers and artists. It is already the embryo of a new art form." Will Eisner
"Still, […] in all forms of comics' sequential artist relies upon the tacit cooperation of the reader. This cooperation is based upon the convention of reading and the common cognitive disciplines. Indeed, it is the very voluntary cooperation, so unique to comics, that underlies the contract between artist and audience." Will Eisner
Comics, which are really best described as an arrangement of images in a sequence that tell a story – an idea – is a very old form of graphic communication. It began with the hieroglyphics in Egypt, it first appeared in a recognizable form in the Medieval times as copper plates produced by the catholic church to tell morality stories. Will Eisner
Thankyou for stopping by and taking he time to read my blog. Stay safe and I will see you all next week.