Hi everyone, this week as not been not such a great week for my household, in particular my youngest daughter, as she was just getting over her last relapse with her Myalgic Encephalomyelitis (ME for short), but she has taken a step back. It is hard seeing your child in pain, but unable to do anything for them, its not just her that suffers daily, this is a complex condition that baffles the doctors as they don't understand, which is why there are so many people out there that don't receive any help from anyone, and I am afraid to say it but my daughter is one of them.
Anyway, on with today's blog post. This week is about Mindy Kaling, she turns 42 today she is a talented actress, comedienne and mother, Mindy has become one of television's funniest talents and is an inspiration and role model for everyone,
Early Life:
Mindy Kaling was born on 24 June1979 in Cambridge, Massachusetts United States, to parents Avu Chokalingam an architect and Dr Swati Chokalingam (nee Roysircar) an obstetrician/gynaecologist. As a child she would be so intrigued by comedy sketches and would pay more attention to such televised shows as Living Color and Saturday Night Live.
Mindy is an American actress, comedian and is known for her off-beat humour, which she displayed in her own project that she created in the popularised "The Mindy Project." She was a member of the comedy troupe The Dog Day Players and the Rockapellas while attending one of the most distinguished and illustrious schools Dartmouth College, where she majored in theatre and joined an all-female a cappella group. During her time at the college Mindy would create a comic strip for the college newspaper called Badly Drawn Girl, in 2001 she graduated with a bachelor's degree in playwriting.
How her Career Started
Kaling begun her career as an intern for the television show the Late Night with Conan O'Brien aged 19. From there, she moved to Brooklyn and went on to work as a production assistant for Crossing Over with John Edward, Kaling and her best friend wrote a Broadway play called Matt and Ben in 2002. The play was a wondrous hit at the New York International Fringe Festival, it a was named as one of the top ten theatrical events of the year. Kaling caught the eye of Greg Daniels that sane year and was hired to write and perform on the show. She was the only female among a staff of eight. This was the beginning of what would become an exceptional career for her.
Facts
Her birth name is Vera Mindy Chokalingam. The name Vera is, according to Kaling, is of the "incarnation of a Hindu goddess."
Kaling's parents are from India and met while working at the same hospital in Nigeria, they moved to the United States in 1979.
Kaling was born to Indian Immigrants Parents Avu Chokalingam and Dr Swati Chokalingam.
She went to the prestigious Buckingham Browne & Nichols School in Cambridge Massachusetts.
Mindy attended Dartmouth College and while there, she used to draw comic strip she drew for the school's newspaper called "Badly Drawn Girl." She was also a Classics major for much of college, studying Latin, which she had not studied since 7th grade.
She joined an improvisational comedy troupe called The Dog Day Players while attending Dartmouth College.
She shortened her last name early on in her career when she was still at college as no-one could pronounce it correctly.
She was named Mindy after one of the lead characters in a television series called Mork and Mindy, which starred Robin Williams and Pam Dawber according to US Weekly.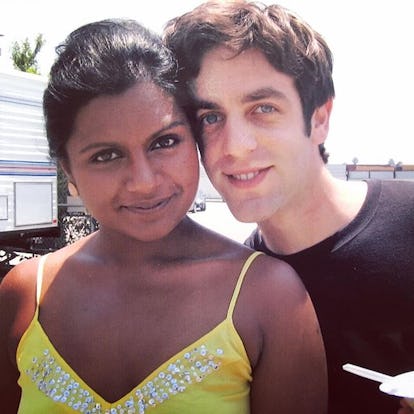 By the time she reached 33 she had only had four boyfriends, as she didn't start dating until senior year of college. One of her boyfriends was also her co-star on The Office, whom she met 15 years ago B.J. Novak and Mindy are still close to this day, as best friends, even after the relationship ended.
She starred in the Office, which also starred Steve Carell and John Krasinski, who both went on to become a huge star themselves. Kaling received six Emmy Award nominations as a writer and a producer of the show.
She got her start in acting on-stage before landing her first TV appearance in "Curb Your Enthusiasm" and made her movie debut in "The 40-Year-Old Virgin".
From her success on The Office, Kaling went on to develop her own series, The Mindy Project which debuted in 2012. The show made TV history as the first sitcom to star an Indian American.
She loves reading books by Jhumpa Lahiri, even naming her Mindy Lahiri character after her.
Kaling loved the Simpsons growing up, so much so that she once dressed up as the matriarch Marge Simpson for a photo shoot.
The on-set photos in Mindy's apartment and office are Kaling's own. There are also photos of Mindy with actors who have been on the show for added realism.
Mindy Kaling starred alongside a variety of actors in A Wrinkle in time with the likes of Reece Witherspoon, Oprah Winfrey, Storm Reid and many more…
Kaling had her first taste of comedic success with the play Matt and Ben. She wrote and starred in this celebrity spoof about actors Ben Affleck and Matt Damon writing the screenplay for the movie Good Will Hunting.
Kaling is a single mother to 2 adorable children Katherine Swati Kaling 3 and 9-month-old Spencer Avu Kaling.
Mindy wrote and starred in the hit sitcom The Office, before going on to create her on popular television series The Mindy Project.
In the 2011 film No Strings Attached, she played the roommate of the main character, Natalie Portman.
In 2015 she published a collection of her essays titled Why Not Me?
Mindy drew inspiration for the career choice of her character from a place that is really close to home. Mindy's mother, Swati, who is also a physician. Mindy admitted to getting some of her story ideas from her mother's real-world career.
On top of being an actress, a TV writer, and a producer, Kaling has also written two hilarious memoirs: Is Everyone Hanging Out Without Me (and Other Concerns) and Why Not Me? Both books were not only hilarious, but also New York Times bestsellers.
Kaling and Witherspoon have worked together on several projects together, not only did they star together in A Wrinkle in Time but are now teaming up again for Legally Blonde 3 where Mindy has signed on to write the screen play along with Dan Goor. Mindy has had a recurring role on Reese's The Morning Show with Jennifer Aniston, and Reece did a cameo on The Mindy Project (2017), which as cemented their BFF.
In addition to writing, producing, and starring in her own show, Kaling has tackled other projects as well. She has become one of Twitter's most popular personalities, with more than 11.6 million followers.
She also voices characters in the films Despicable Me, Wreck-It Ralph and Inside Out.
Mindy is a huge fan of writer and director Nora Ephron, who penned classics like You've Got Mail and Sleepless in Seattle. But it turns out that Ephron was also a fan of her work too. Ephron had been given Kaling's first book as a gift, and she wrote Kaling a letter telling her how much she enjoyed it.
Kaling was nominated for an Emmy Award along with Greg Daniels for the episode Niagara of the show The Office. Kaling and her co-writers were nominated five times for the Primetime Emmy Award for Outstanding Comedy Series. Kaling also received a nomination for Outstanding Writing in a Comedy Series in 2010.
The Mindy Project has been nominated for three NAACP Image Awards in 2015. Mindy Kaling herself is nominated for Outstanding Writing in a Comedy Series and Outstanding Actress in a Comedy Series.
In 2013, Time magazine named her one of the "100 Most Influential People in the World.
In her best-selling memoir, "Is Everyone Hanging Out Without Me?" Kaling describes herself as a sensitive and studious child.
Thanks for taking the time to read my blog, Enjoy the rest of your week and I will see you all next week.