This week's blog is about the beautiful forests around the world, that look so peaceful and serene and most of all very inviting, a place to go to escape from all the stress. I don't know about you, but it is sometimes good to get away from all the electronics, so you can switch off and focus on what is important to you, not only for yourself, but to re-connect with your family, as well as nature. We have all had it hard for the past year, and taking time out for loved ones, is more crucial than ever.
Zhangjiajie National Forest Park, Hunan, China
Zhangjiajie National Forest Park, as one of the most beautifullest of settings, I think that was why it became the inspiration for the movie Avatar, with its deep ravines, subtropical forest and along with its towering sandstone buttes. This gives you the impression of a magical place that can hypnotise you into forgetting about everything outside of its bubble.  This peaceful and mesmerizing place is part of the UNESCO World Heritage site in the Wulingyuan District of South-Central China's Hunan Province, which is home to some rare species like the ginkgo biloba tree that is also known by ginkgo or gingko, along with some unusual primates and birds. This park offers some beautiful and thrilling ways to explore its landscape, including its glass walkway and cable cars that gets you up close and personal too the beauty of its forest offering you a bird's eye view. This is an absolute must for an avid photographer with its out of this world scenery.
Daintree Rainforest, Queensland, Australia
The majestic Daintree Rainforest is thought to be one of the oldest rainforests in the world by being around 135 million years old. It is protected by UNESCO and it is home to a vast amount of rare and threatened plants and animal species, which includes these types of plants that are rare, endangered, and exotic the blue tassel fern, Coopers Creek Walnut, the Rare Russell River Lime. The animals included are the Spotted Tiger Quoll, Musky Rat-Kangaroo, and Southern Cassowary. A prehistoric predator, called the saltwater crocodile can also be found lurking in the rivers and creeks. If you go up to, he forests Discovery Centre's walkway it allows you to get high up in the trees, after dark a guided walk is a great time to see the forest come alive at night. Daintree is the world's most stunning of rainforest and is worth a visit.
Green Mountain National Forest, Vermont, USA
Green Mountain National Park as a stunningly picturesque setting, with its beautiful mountain backdrop, and below it is surrounded by its native sugar maple trees to add to its effect. The forest is scenic all through the year, but especially around autumn time which brings out an array of colours, red, orange and gold, making it look so majestic, it gives you a perfect place to go, no matter what time of year. The Green Mountain's in central and southwest of Vermont, which is good for its many hiking trails, perfect for getting away from the hustle and bustle of the city and gives you a panoramic view at the top of the mountain.
Otzarreta Forest, Spain
The Otzarreta Forest can be found in the northern part of Spain's Gorbea Natural Park and is well-known to its Basque mountaineers. The forest is surrounded by beechwood trees, and its settings offer many stories in Basque mythology, making it quite romantic. Gorbea Natural Park is in the Basque Country and is known for its tenuous forests, such as Hayedo de Otzarreta. It is said to be especially charming in autumn and is an absolute must place to stop at, for any thrill seeker that loves an exciting adventure.
The Amazon Rainforest, Brazil
The Amazon Rainforest spans over eight South American countries Brazil, Bolivia, Peru, Ecuador, Colombia, Venezuela, Guyana, Suriname, and French Guiana, making it undoubtedly the most famous rainforest that contains a small part of the planet's known species that spans its 1.4 billion acres of tropical forest and winding river that covers over 4,100 miles. The Amazon contains several million species of different insects, birds, plants, with many still unrecorded. The main wildlife includes animals such as jaguars, tapirs, capybaras, manatees, and other rodents, and several types of monkeys. The Amazon Rainforest looks so serene, but it is at risk, not only with the climate changes but also with it being destroyed, as the forest as over the years decreased in size to what it once was.
Tha Pom Khlong Song Nam, Thailand
The Pom Khlong Song Nam means "two-water canal" and is a wondrous of wonders. It as spectacular mangrove trees with luminous fluorescent blue water, a colour that only happens when the seawater comes together with freshwater at certain points of the cycle of the tide. The Umbra Forest green area is Gargano, which is home to trees like oaks, holm oak, and beech. This is a place for you to study and learn about all the plants growing both in and out of water and soil, and the stream is as clear as glass. Its visitors can take a nature walk and take in all its beauty.  It is an enchanting and mythical place to visit for the adventurous wonderer.
Tongass National Forest, Alaska, USA
Alaska's Tongass National Forest is approximately 17 million acres making it the largest national forest in America, encompassing the majority of the Alaska Panhandle in southeast Alaska. and is home to some of the country's picturesque natural beauty with a selection of diverse and unique wildlife, Tongass consists of some of the largest bears', wolves, mountain goats, black tailed deer, bald eagles', beavers, fish, humpback whale. orca whales, and otters, and it as one of the best coastal towns in America. This National Forest is both big and beautiful and worth a visit.
Jiuzhaigou Valley, Sichuan, China
Jiuzhaigou Valley is a very enticing and alluring place that is tucked against the edges of the Tibetan Plateau and is both a UNESCO World Heritage site and world biosphere reserve. There is no mistaking that it is undeniably beautiful with its magnificent blue and green lakes, spectacular waterfalls, snow covered peaks, unique wildlife, and forests, it can be found in the Min Shan mountain, making it a perfect excursion break to enjoy, as well as getting to know its nature and wildlife.  it is also home to both endangered plants and animal species which includes the giant panda, the Sichuan takin, Sichuan golden monkey, and 220 bird species, along with numerous orchids and rhododendrons. This place is so much more than its Jiuzhaigou Valley, it is also home to nine Tibetan Villages.
Nuuksio National Park, Espoo, Finland
Nuuksio Natural Park is just outside of Helsinki the capital of Finland, but it's not to near that it takes away the very essence of the place that captures its beauty, a place where you can go to and get away from the hustle and bustle of city life, and escape into its wild settings and enjoy the beautiful Finnish scenery, with its rugged crags, green forests, and blue lakes. Pack your backpack for a picnic or campout to create a memorable experience for you, your friends and family, giving you a memorable day, so you can explore its heartlands, and enjoy discovering its wildlife. Nearby is Haltia The Finnish Nature Centre shows you the best of Finland's natural treasures from across the country. There is a selection of trails you can take that are signposted throughout. This National Park offers a wide range of animals such as the herbivore moose, lynx, Siberian flying squirrel, nocturnal mammals and so much more.
Glen Affric, Scotland
Glen Affric is a somewhere, that offers a place for you go to retreat and reflect, a place that is both peaceful, and calm, and it is there you can find your inner peace and be able to start to heal from the inside out. It as a stunningly majestic forest, that can be easily forgotten that it is in Scotland and not in Canada. With its glistening lochs, snow-topped mountains, and dense forests with its native pinewoods. There will be times you may come across otters basking in its lake, red squirrels scurrying around their natural habitat as they leap between the trees, and you may even get a treat as the golden eagle comes soaring above as well as other wildlife animals like the roe deer, the midge, pine marten, pearl bordered fritillary, scotch argus, crested tit, black grouse, Scottish crossbill. Glen Affric is not short on hiking trails and inviting waterfalls, along with its jagged canyons one of many great examples of Scotland's majestic wilderness and it is a great way to connect with nature.
Foresta Umbra, Italy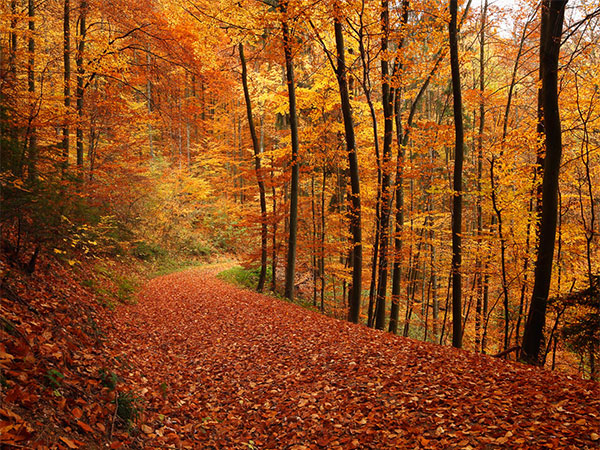 Foresta Umbra the "Forest of Shadows" it is an exquisite and enchanting place, that as a designated picnic area, and thickets of tall, epic trees. This is the last essence of Puglia's ancient forests that is home to yews, beech, oaks, and Aleppo Pines trees, that is hidden in its hilly terrain, there are more than 65 million different types of orchids that have been discovered here, and the wildlife includes the likes of foxes, wild boar, the roe deer, mouflons, squirrels, woodpeckers, goshawk, the peregrine falcon, and an increasingly rare wild cat, and fallow deer. You will also find that walkers and mountain bikers will find exceptionally well-marked trails within the forest. The Umbra Forest has been part of the UNESCO World Heritage Site since 2017 and is situated in the heart of Gargano, which is in the province of Foggia, which makes it a perfect place for an exciting autumn break.
Mont Blanc Forest, France
Mount Blanc is Europe's highest peak and is one of the most known destination for its winter and ski sports. But before we get to the summit, there is a lot of wonderful sites to see, from its captivating forest to its mountainous snow-covered peaks, that gives you an alluring backdrop. The forest is worth visiting and seeing its natural landscape at its best. When hikers come to Mont Blanc Forest, they like to know what kind of wildlife they might run into along the way, as wildlife is always so exciting to see, here is some of the animal species you will get to meet along the way are, an Ibex that is on a mountain cliff, Red foxes, Wild boars, European badger, weasels Alpine, Chamois, Red deer, Roe deer, Alpine marmots, and red squirrels. There are numerous plant species that are among the rare which is the beautiful Slipper Orchid, Aquilegia Alpina, and the Martagon Lily, this just gives you a mere insight into what the forest as to offer.
Thank you for taking the time to read my blog, enjoy the rest of your day and I will see you back here next week!