Hi everyone, I hope you have all been enjoying the warm weather we are currently experiencing here in the U.K. Although the sun has been blissfully shining, the world has been rocked with the saddening news of Tina Turner, who died aged 83 in Switzerland after suffering a long illness. The world mourns one of its greats today, it won't be the same without her raspy voice bellowing out songs like Nutbush City Limits, The Best, River Deep – Mountain High, and Prod Mary., she simply was the queen of rock and roll, whose career spanned over 60 years, she was an absolute legend, who will truly be missed
Today's post is about Disney's loveable and good-natured Goofy, who has a lot of human-like qualities, turns 91 years old today. He makes us laugh at his zany, and absent-minded antics. You will never outgrow watching Goofy, you will just introduce him to a new generation, who too will come to love him as much as you do. He will live on in our children's eyes and then their children's and so on for years to come.
Goofy is an animated character that was brought to life by The Walt Disney Company. He is a tall anthropomorphic human-like dog that is characterized by having a southern accent. He has human-like traits and mannerisms, he is known for wearing a turtle neck and vest, with pants, shoes, and white gloves, his outfit is topped off with a tall hat which was originally designed as a rumpled fedora. Goofy is known for his clumsiness, as well as being dim-witted, however, he is intuitive, and clever in his own way, with a slapstick style of comedic humour.
Goofy regularly stars alongside his two best friends Mickey Mouse and Donald Duck. He hangs out a lot with his number one favourite person in the world his son Max, he is a good father that has a great relationship with his son. Goofy first started out in 1932 in Mickey's Revue, but not as Goofy, his character at that time was known as Dippy Dawg, who was an older character than what we know him to be, but later that same year he was re-imagined and created as a much younger dog. Throughout the 1930s Goofy had been considerably used as part of a comedic trio which included Mickey and Donald, which furthermore cemented their relationship as friends.
Seven years after his first appearance Goofy was to have his very own series of shorts, which is pretty good, for a character who was only supposed to ever be in one animation, but the Disney staff and audiences alike just loved his persona so much that The Walt Disney Company made him come back time and time again until he eventually got his own series, he was then given the name Goofy that he is known by today, and who we have all come to know and love and have taken to our hearts. Here are some facts about the birthday boy himself. Enjoy!!!
Goofy's species has been brought into question as to whether he is actually a dog, but it has been confirmed that he is definitely a dog but with human qualities. There was once a rumour going around that he is a cow, but this is not true.
Some people have questioned why he and Pluto are both dogs, but Pluto is a pet and Goofy is not. This is because Pluto does not have the same human qualities as Goofy.
Goofy has not always been named Goofy. When he made his debut in 1932 his name was Dippy Dawg and he was more of a redneck. In the 1950s his name was George Geef and he was an everyday man.
It wasn't until his seventeenth appearance that he finally became Goofy and gained the look you know and all love today.
His first film appearance as Goofy was in the black-and-white short "Orphan's Benefit."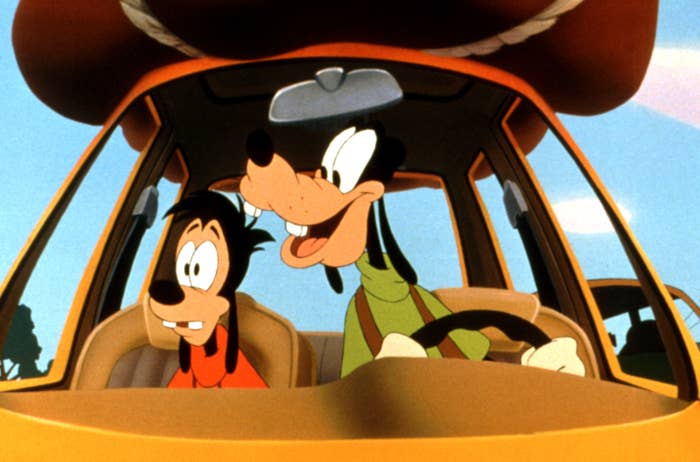 Goofy's son's name is Max Goof. You've most likely seen him on A Goofy Movie and An Extreme Goofy Movie, but Max's first time on screen was in Goof Troop, a cartoon TV series in 1992.
Back in 1951, Goofy had a son, but his name was Goofy Jr, not Max. This was in the film Fathers Are People, which is one of the Disney shorts.
Goofy's son Max is not his only family member. Very early on there was a Mrs. Goof, but she has not been mentioned since. He has a dad named Amos Goof, a mom named Mother Goofy, a grandma named Grandma Goofy, a cousin named Arizona Goof, and a nephew named Gilbert Goof.
He has two brothers Gaffy and a younger one named Geefy.
Goofy's shoe size is 18.5! People who dress up as Goofy in Disney parks must wear size 18.5 shoes and be at least 6′ tall. When you see Goofy on your next Disney vacation, make sure to look at how big his shoes are!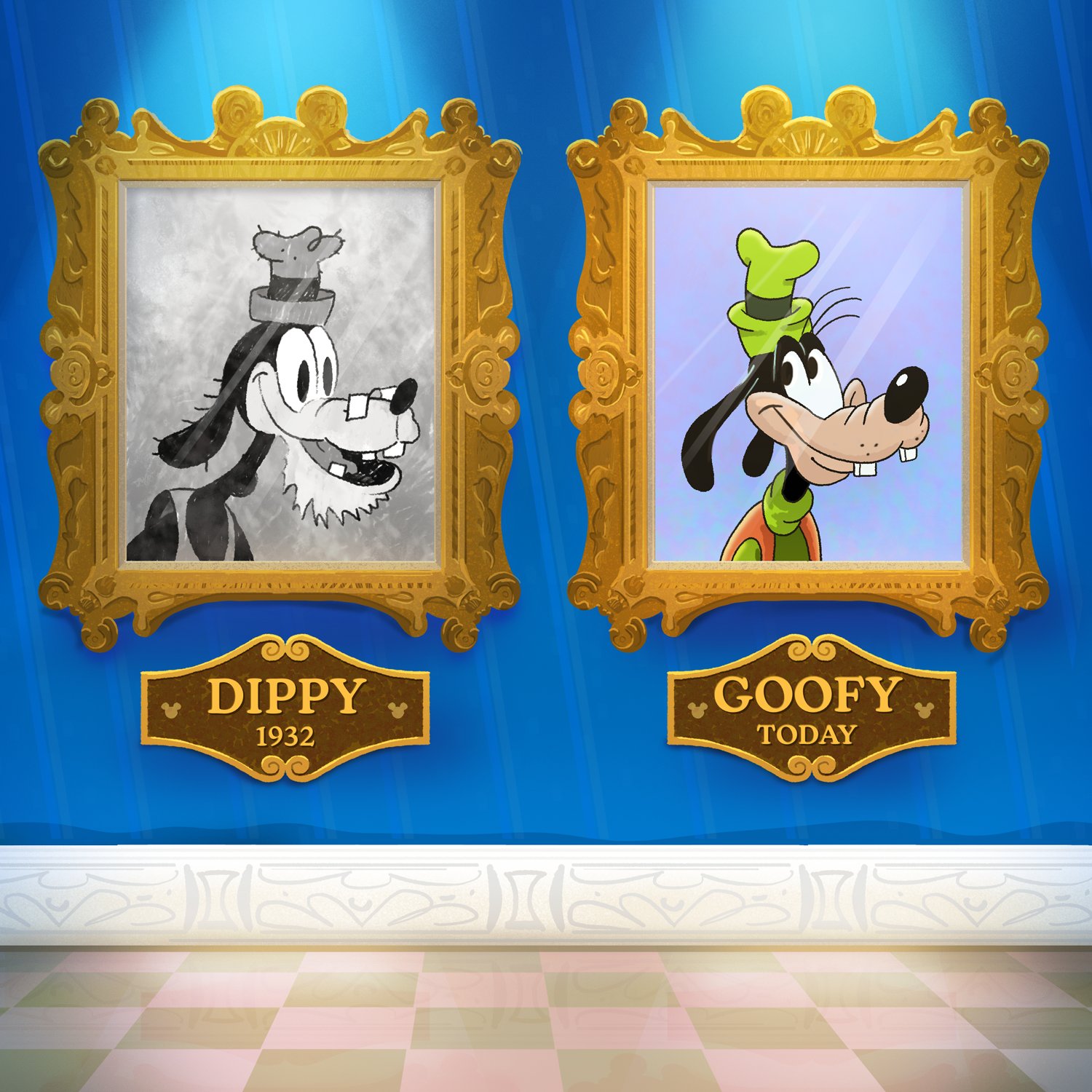 His birthday is May 25, 1932. He debuted on that day in a short-called Mickey's Revue. He was Dippy Dawg in this film. The animated film is only about seven minutes long. It featured Mickey, Minnie, Horace Horsecollar, and Clarabelle Cow.
Goofy's most famous saying is "Yaaaaaa-hoo-hoo-hoo-hooey!!!"(you can't envision anyone else saying it other than Goofy. His famed saying first appeared way back in 1941 in the short The Art of Skiing, and it was voiced by an actual yodeller, Hannes Schroll. Others you'll often hear from him are "ah-yhuck" and "gawrsh".
The first person to do the voice of Goofy was Pinto Colvig. He has also voiced Pluto and Grumpy and Bashful in Snow White and the Seven Dwarfs and portrayed the original voice of Bozo the Clown on TV in the 1940s.
Other people who have been voice actors for Goofy are Hal Smith, Bob Farmer, Will Ryan, and Tony Pope. Bill Farmer still voices Goofy for Walt Disney Company right now and has for longer than anyone else, in over 60 titles.
In addition to Goofy, Farmer also started voicing Pluto in 1990, a role he still holds today.
If you go to Disneyland in California, you can go and visit Goofy's very own Playhouse located in Toontown, where you can take pictures.
You can also fly through the air with him at Goofy's Sky School. At Walt Disney World, you can fly in Goofy's stunt plane. It's called The Barnstormer, and it's the perfect first coaster for little ones. Adults love it as well.
There are 2 Goofy rides at Disney theme parks. One is Goofy's Sky School which is located in Disney California Adventure. The second is The Barnstormer at Magic Kingdom in Walt Disney World in Florida.
Goofy was Walt Disney's favourite Disney character. Goofy is unusual, awkward, clumsy, and silly, but he's also very funny and lovable!
You might think that he's just in films about himself and Mickey, but I was surprised to learn that he's in a lot of unrelated films too. He has quick appearances in Aladdin, The Little Mermaid, Flubber, Saving Mr Banks, The Lion King 1 1/2, and Who Framed Roger Rabbit.
Goofy has had many different types of job occupations, he's been an actor, comedian, ajax employee, a photographer in "A Goofy Movie," and "DuckTales," a Waiter in "House of Mouse," and a diner owner in "Roadster Racers/Mixed-Up Adventures."
Through all his aliases over the years, it's no surprise that Goofy has a secret identity! That mimics the powers of Superman, becoming Super Goof, and he emerges whenever Goofy eats peanuts (or, as he calls them, Super Goobers).
Goofy was never meant to become a full-fledged Disney character. In his first incarnation as Dippy Dawg, he was created simply as a one-time gag, for the Mickey Mouse short Mickey's Revue.
Goofy is the only main Disney character to have a son. Many believe that Goofy has a son, Max, to make him appear more adult-like and appeal to older audiences. Max's modern iteration first appeared in 1992, in the TV series Goof Troop. Although he originated in the '50s as Goofy Junior, he now appears as Max Goof in many films, usually alongside Goofy.
Fitness is very important to Goofy. In 1956 several short films were made under the title "The Goofy Sports Story". The shorts covered the Olympics, gymnastics, skiing, baseball, and football.
In 1972 they were released in theatrical form under the name "Superstar Goofy". In the 1980s Goofy took the persona of sports goof and he made quite an impact because he eventually was made the official mascot for the French Olympic team. Team Goofy!
The only visible difference between Goofy and Super Goof is a costume change (Super Goof's blue cape and red suit magically appear and disappear as Goofy transforms), almost everyone is fooled by his disguise, allowing him to keep his identity secret.
Goofy was the official mascot of the Disney water park River Country. This was the first water park at Walt Disney World. It opened in 1976 and closed in 2001.
When you visit Walt Disney World you can't help but see Goofy merchandise all over. He even has his own candy store and candy line.
The first piece of merch that Goofy was ever on was a deck of playing cards.
Thank you for taking the time to read my blog. Have a great week and I will see you next time!